Store your bike at home … in style!
It isn't always easy to find a place to store your bicycle, especially in winter. But once you've found the right spot, why not liven it up with a colour scheme that highlights your bike's design while adding style to your interior? For inspiration, here are two winning colour combinations for decorating with your bike.
IDEA 1: Greyish white and black
Choose this colour palette if you have a white or black bicycle. Black and white is a classic combination that never goes out of style. A designer favourite, this colour scheme adds elegance and simplicity to your décor. Select black and white furniture and accessories like shelves, tables, plant pots and cushions to maximize the impact of these colours in your space. As a bonus, black and white look great with any colour in the spectrum. Add a unique pop of colour to your room with a pair of yellow armchairs, for example.

These white and black paint colours from Sico make the perfect backdrop for your bike: Natural White (6000-11) and Black Pepper (6182-83)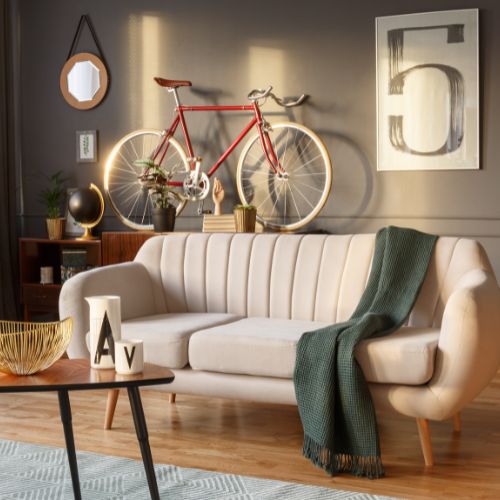 IDEA 2: Greyish brown and beige
If your bike is a colour other than white or black, opt for this colour scheme to make it stand out in your décor. The colour of your bike frame is sure to bridge the deep neutral tones of greyish brown and the soft tones of beige for a balanced effect. In this example, the red bicycle is the perfect decoration. Subtle but still visible, it forms an integral part of the décor. Industrial Grey (6212-52) and Talcum White (6214-11) will help you create this comforting and nostalgic combination at home.
You'll love the new look of your room just as much as you enjoy the practical bike storage solution! Want more design ideas? Check out our colour inspiration section for tons of design options!