Farmhouse aesthetic
With its warm and inviting feel, modern farmhouse decor will transport you to the countryside where the grass is green and the sound of birdsong fills the sunny skies. If you're inspired by this heartwarming home trend, we've got some great tips to show you how you can pull it off.
What is Farmhouse aesthetic?
In recent years, the modern farmhouse style has grown in popularity, likely due to our love for all things organic or out of a growing need to shift our focus on the essentials. It's safe to say this trend is here to stay. And with good reason: this type of decor pays homage to peaceful vacations in the countryside and can elicit a soothing, laid back vibe.
To recreate the look at home, you need to focus on the characteristics that make your interior unique. It's as simple as highlighting natural elements like wood or playing up clean lines with metal touches.
The features of a modern farmhouse
A blend of both the contemporary and rustic, the modern farmhouse aesthetic comes to life through wall panels, authentic hardwood flooring, and with upcycled vintage or antique furniture. Beyond that, industrial lighting, black hardware, and other decorative elements like wire baskets elevate this country-inspired look with a refreshingly modern feel.

Cleanliness and simplicity are core to this trend so to keep your interior from looking too cluttered, opt for matte finishes on both walls and furniture. This will inspire a cozier, more sophisticated feeling all throughout the home.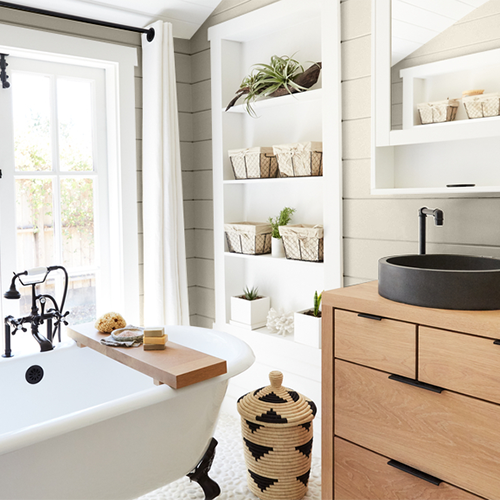 The colours you'll need
The colour trends often associated with this aesthetic are timeless and universally-pleasing, drawing inspiration from the minimalism of Scandinanvian design. Achieve this look with walls in crisp white or neutral and earthy palettes. These are the kinds of colours sure to provide your room with so much decorating potential, especially when accenting with natural materials like hardwood or industrial-inspired details.

Ready to bring your modern farmhouse dreams to life? Here are our top five colour recommendations: