ADD STYLE TO YOUR WALLS WITH A UNIQUE DESIGN
Want trendy, eye-catching walls but need inspiration to make it happen? One easy way to transform your space is to paint a stylish scalloped wall - in just 5 easy steps!
What you'll need:
pencil
yardstick
painter's tape
can of paint, paint tray, brushes and rollers
STEP 1: Choose the point on the wall for the design
Determine the height where you want the scallop design to be on your wall.
STEP 2: Draw a horizontal line
Draw a straight horizontal line on your wall where you want the scallops to start. The length is up to you.
STEP 3: Trace semi-circles
Use a pencil to trace around a round lid or other circular item of the right size, drawing semi-circles on the wall. For consistency, apply tape to the lid to mark where to start and stop.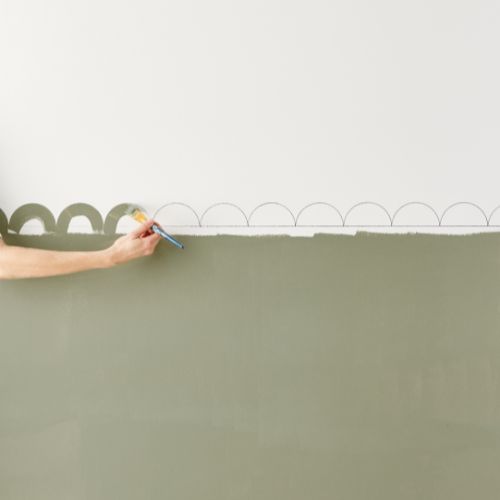 STEP 4: Paint the wall
Paint the wall area under the scallop design in your Sico paint colour of choice. Use a small paintbrush to outline the semi-circles. Let dry, and voilà! You have a scalloped wall.
STEP 5: Add accessories
All that's left to do is decorate the room with furniture and accessories you love.

Your scalloped wall is complete and ready to be admired. It's sure to be a big hit with kids and grown-ups alike!

Looking for other creative projects to do yourself? Check out our DIY section.