Can you feel a sense of hope and renewal in the breeze?

The winds are changing, but that could also be Cool Current, the 2022 SICO colour of the year.

Both calming and alluring, this green represents a renewed world. It's a soft hue that beautifully captures nature and all of its resilience. Much like the refreshing feel of aloe vera on a burn or the scent of a fragrant plant, Cool Current (6199-42) has a way of breathing life into any setting. This colour aims to be an act of optimistic rebellion, whether by making a confident statement or by helping to create self-care moments.
Create a Peaceful Oasis in your Home
With its balanced and harmonious tones, Cool Current (6199-42) transports us to a serene sanctuary. That's why it's especially fitting used in a bedroom or office, rooms we seek out for rest, tempering our emotions, and soothing anxiety.
Whether it's painted as an accent or covering the walls of a room, this fresh green instantly plunges you into a state of bliss, of focus. Fill the space with various plants to bring out the green's subtleties to create a refuge of your very own.
Elevate a Room's Configuration
When paired up with natural materials, Cool Current (6199-42) provides a room with a sense of grounding and comfort. It serves as a backdrop to showcase unique architectural elements and furniture with curves.
Given that green is composed of hot and cold yellow and blue, it tends to create balance no matter where it's used. This is why it can work in both ultra-modern or very rustic settings.

In the kitchen
For kitchens, the colour green creates a pleasant and homey vibe and is present enough to even add a little zest to whatever dish you're enjoying. The same can be said for 2022's SICO colour of the year.
All of the year's colour trends work beautifully with wood cabinets and islands, as well as brass handles. They can help warm up the room and give the setting a touch of sophistication.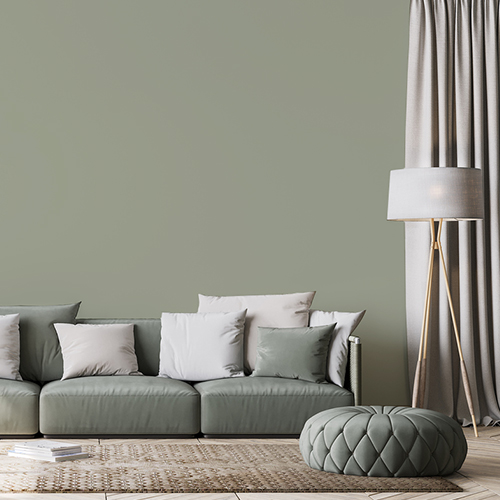 A friend of function
Create a cohesive and cocooning vibe with tone-on-tone green. Cool Current (6199-42) perfectly complements a monochromatic bathroom with floor-to-ceiling emerald tiles. This colour can enhance a living area filled with furniture like a luxurious green velvet sofa, giving it a dramatic yet organic effect.
Are you craving some structure? Define the different living spaces in the home by painting an entire wall or area in one of 2022's on-trend colours, and balance it all out by using a more subtle shade for the rest of the room.
What rooms will you be painting in cool current?
Foster a feeling of inner peace and let Cool Current (6199-42) carry you to zen places.
Given its deep association with nature, green is a symbol of life, growth, and balance. Treat yourself to this comforting colour—it's sure to be a hit in your home as it's one of the most eye-pleasing options there is.
See The Colour of the Year In Your Room
Cool Current (6199-42)
2022 Paint Colour of the Year