Special Uses For Our Products
Acoustic Tile
When working with Acoustic Tile, seal brownish rings with Polyprep 145-022 or GoPrime all-in one 150-135.

Find Paint Products
Brick, stone, blocks and other masonry
Eliminate all foreign matter and mortar burrs. Remove salts, dust and sand with a broom or stiff brush. When asbestos-cement sheets are used for the exterior, coat both sides of the sheets to prevent any absorption of water that triggers alkalinity and can cause efflorescence.

Find Paint Products
Ceramic Painting
Because bathroom walls are exposed to a wide range of contaminants (soap, oil, dirt, grime etc.), meticulous surface preparation is essential. Note that these recommendations exclude bathrooms and showers walls.
Follow these steps:
Surface preparation:
Clean the surface using a cleaner with active oxygen Polyprep 771-135 (liquid) or 771-136 (powder). Then rinse clear with water.
Using a circular movement, rub down the surface with 120 to 150 grit sandpaper. This takes off the surface sheen and allows the paint to adhere to the surface much more easily.
Apply a coat of the primer GoPrime All-in-One alkyd emulsion (150-135).

Find Paint Products
Ceramic Surface Furnishing
There are many choices available: Sico Kitchen & Bathroon (163 series), Furniture & Cabinets (125 series), Doors & Trim (165 series) or Sico Evolution's pearl and semi-gloss finishes.
Wallboard
The surface must be clean and dry and nails properly set and filled. Sand the joints to remove any seeding and rough spots, and then dust. Sico manufactures paints that do not require a primer. It is the case for Sico Cashmere, Chamois and Evolution (all finishes except for the Flat for ceilings).
Concrete And Other Masonry
Concrete must cure for at least 28 days and be thoroughly dry. Remove all spatters, rough patches and burrs by scraping. Eliminate dust with a broom or stiff brush. Use cement mortar to fill in holes, cracks, honeycombing or other obvious defects, and allow curing. If there are efflorescent salts, brush with a diluted solution of Polyprep 771-127 muriatic acid, rinse with clean water and allow to dry. Eliminate all grease, tar and oil stains by washing with Polyprep 875-104 thinner, rinse and allow to dry. Muriatic acid is ineffective in removing oil and other greasy stains. Smooth concrete surfaces like floors and stairs must be treated with diluted muriatic acid, Polyprep 771-127, to obtain better paint adhesion. Allow the acid to work, then rinse thoroughly with clean water.

Flaking Paint
Scrape and sand the edges of the flaking areas and if needed smooth the surface with the appropriate filler compound. Thoroughly clean and prime the bare surfaces with the recommended primer (see the table of base coat choices).
Interior Wood
Seal all knots and sticky veins with Polyprep 205-112 shellac. Smooth rough spots with sand paper, then dust. Apply a coat of primer and then plug nail holes and grooves with putty or filler.
Exterior Wood
Ensure that the wood is thoroughly dry and contains a maximum of 12% moisture when measured with a hydrometer (18% with exterior latex stains). The surface must be clean, free of dirt and greasy stains. Burn or scrape resin and then seal the knots and sticky areas with Polyprep 201-112 shellac. Sand rough spots. Apply a coat of primer and then plug any holes and grooves with putty. If the wood has been treated with a preservative, make sure that all solvent has evaporated.

Find Stains For Your Deck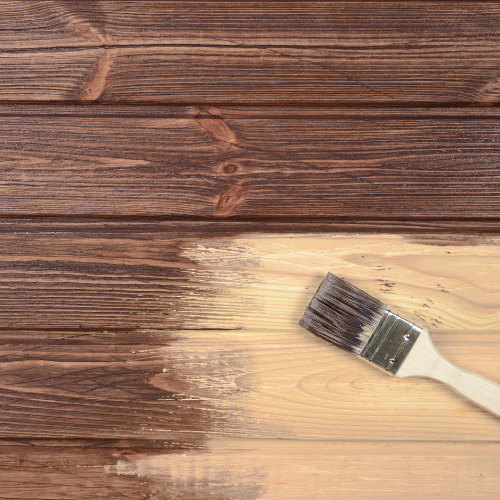 Exterior Wood With Semi-Transparent Stain
Sand rough spots. Eliminate marks and stains by scraping, sanding or chemical stripping Sico Cleaner, brightener and conditioner for exterior wood –771-222 (Powder) 771-333 (liquid) or 771-666 (liquid, environmental choice).

Find Stains For Your Deck
Painting Melamine
For lasting adherence and finish, the preparation of a melamine surface is just as important as the painting job itself. Here are the different steps to follow:
Surface preparation:
Clean the surface using universal cleaner with active oxygen Polyprep 771- 135 (liquid) or 771-136 (powder). Then rinse clear with water.
Using a circular movement, rub down the surface with 100 to 150 grit sandpaper. This takes off the surface sheen and allows the paint to adhere to the surface much more easily. Wipe with a damp cloth to remove any surface dust left over from the sanding.
Apply a coat of one of the following: GoPrime All-in-One alkyd emulsion (150-135) or GoPrime all-in-one latex (190-135).

Find Paint Products For Your Project
Plaster
Ensure that the plaster dried and hardened in favorable conditions (minimum temperature of 12 °C or 55 °F) and that the room has been properly aired. Thoroughly dry plaster should contain no more than 6% moisture when measured with a hydrometer. Enlarge any cracks and plug with plaster filler. Remove seeding and rough spots with a scraper. Anyone of the GoPrime primers can be applied on new plaster.

Find Paint Products
Prefinished Exterior Siding
No primer is needed on prefinished siding in good condition, but for good results, the surfaces must be properly prepared. Scrub with a liquid solution of Sico cleaner, brightener and conditioner for exterior wood 771-333 (liquid) or 771-666 (liquid, environmental choice) or cleaner with active oxygen 771-132 and rinse to remove chalking, dirt, etc. Scrape to remove any loose flaking paint and sand to smooth the surrounding area.

Find Paint Products
Pre-painted Aluminum Siding
Using a brush, wash with Sico wood cleaner 771-333 (liquid) or 771-666 (liquid, environmental choice) or with a cleaner with active oxygen 771-132 and rinse.

Find Paint Products
Pressed Wood Siding
Touch up the areas where the paint has worn off with oil-based exterior primer.
Pre-painted aluminum siding
Using a brush, wash with Sico wood cleaner 771-333 (liquid) or 771-666 (liquid, environmental choice) or with a cleaner with active oxygen 771-132 and rinse.

Find Paint Products
Previously Painted Surfaces
Previously painted surfaces must be clean, dry, free of dust, dirt, grease, oil, wax, rust, flaking paint or any other contaminant that can prevent paint adhesion (see the section on surface preparation). According to the current colour of the surface, the colour you want to use and the type of paint currently on the surface, some of the primers GoPrime series may be suggested.

Find Paint Products
Surface Finishing For Melamine
When the base coat is completely dry, lightly sand and clean the surface again before applying the finish coat. Follow the how-to-use instructions of the product.

The Sico 125 series Furniture and cabinets paint with alkyd emulsion is ideal for this kind of surface. It is applied with a professional quality brush or a short nap roller. It fully meets the requirements of furniture and cabinets and provides better leveling than regular latex paints.

Find Paint Products
Vinyl Siding
Before painting, thoroughly clean with the Cleaner, brightener and conditioner for exterior wood Sico 771-333 (liquid) or 771-666 (liquid, environmental choice) or active oxygen cleaner 771-132. As this material is very sensitive to heat, it should be painted with a colour identical to the original siding or a lighter colour. Painting it a darker colour will warp siding permanently.

Find Paint Products
Water Marks, Food Stains, Graffiti
Use the appropriate GoPrime 150-135 or 190-135 or a Polyprep primer-sealer (1, 2 or 3).

Find Paint Products
How To Fix Greying Wood
If the wood has become grey due to prolonged unprotected exposure to the weather, clean the surface with Cleaner, brightener and conditioner for exterior wood – 771-222 (Powder), 771-333 (liquid) or 771-666 (liquid, environmental choice).

Find Paint Products For Your Project Find Stains For Your Deck