WOOD DESERVES TO BE THE STAR!
Do you have wooden décor elements that don't match the rest of your space? Give them new life using colour schemes that complement natural wood tones. Here are three colour combinations that highlight wood in your space while giving your room a whole new look.
IDEA 1: Light and dark grey
Neutral and versatile, light and dark grey paint colours are the perfect backdrop for wooden elements. The combination of these two greys adds style to the space and highlight the natural tones in the wood furnishings and finishes, in a trend-setting way. In this example, the focus is on the wooden window shades, desk and chair. Here's a Sico paint colour palette to help you choose the right grey tones for your walls:
IDEA 2: Greyish blue and white
If you love white and want it on as many walls as possible, greyish blue is most agreeable and compatible shade. Livelier than most greys, this paint colour is easy on the eyes and gives a fresh look to any room while highlighting wood décor elements. This space, with many different wooden accessories and pieces of furniture, shows that there's no limit to how you can use wood in this type of décor. Here's a Sico paint colour scheme to help you get this look in your home: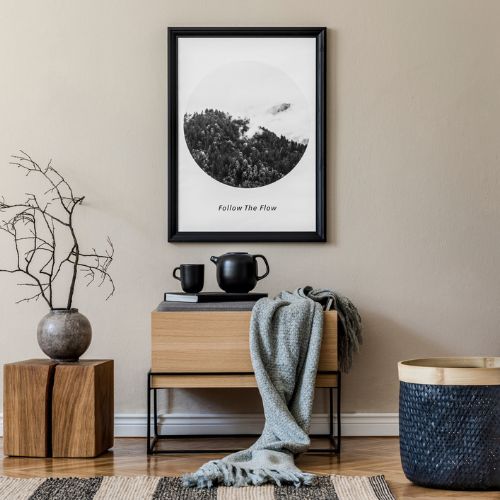 IDEA 3: Cream and off-white
Cream and off-white make a perfect colour combination that helps wooden décor elements shine. Ideal in halls and entryways, these colours add tranquility and modern Scandinavian style to your home while letting natural materials take centre stage. Other colours like dark blue and black work well with this palette. Why not try these three Sico shades for a perfect colour scheme?

Avocado Cream 6104-11
Turtle Eggshell 6107-11
Natural Cotton 6186-41

Want more ideas? See our Colour Inspiration section for tons of design options!